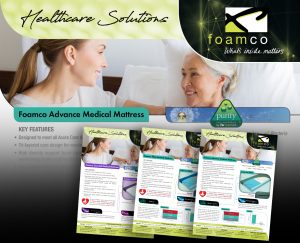 The increased focus on good health and well being is why Foamco have a passion for creating high quality, long lasting and highly functional healthcare mattress solutions. We can create products suitable for all applications such as Home Health, Aged Care and clinical environments such as Hospitals. All Foamco HealthCare mattress surfaces are designed for effective cardiac compression and have been tested with the widely recognised "Little Anne QCPR" training mannequin. Testing Methods available on request.  
Talk to a Foamco sales expert today and we can help design and test a product suitable for your application.
Alternatively, Foamco has made the job easy by designing, creating and testing an exciting range of healthcare mattresses that can be used both for Aged care, Home care and Acute Care applications.
These designs take out the stress, urgency and lead times involved with creating a range from scratch. All designs are customisable to your clients patient needs, bed, or budget requirements, or you can simply order the model as designed by Foamco.  All you have to do is send through your label design, and we can do the rest.